Please support them, if you can, so we can have this alternative and true "news" media going on.
Corey was at GaiamTV studios all week finishing another round of tapings for the Cosmic Disclosure show. Julian and I watched the 4 episodes that were available several days ago, and there were some interesting points revealed. Some of those points are covered in the below update.
There were some questions about the difference between Density and Dimensions which we offered an explanation for.
FYI – For those who are wondering if there was anything shared of major import, there was not in my view. Several points were covered in the post by Gregg Prescott: Commentary On: Corey Goode's GaiamTV Interview And Voice Analysis which we presented our thoughts on.
See 
The Natural Law Basis of Harvest | The Spiritual Evolution of Gaia and All Who Dwell In the System of Sol
 for a conceptual analysis of these topics.If you do not already have a GaiamTV subscription, and want to support Corey, use this link here: 
http://www.gaiamtv.com/?cid=aff:amb:cg:al000
.For other updates by Corey GoodETxSG click 
here
. To support Corey and his work click 
here
.
Facebook Update (July 23rd 8:30am):
Sphere Being Alliance Post from KP's Blog: Note, there is a new link to sign up to Gaiam through that we will post later today. There is also an application you can download that also allows you to download episodes so you can watch them on your devices when ever you like with out streaming them. No worries of Internet connection issues or choppy connections etc…
KP's Blog post below:
[Update: just corrected the incorrect link for the image. Pardons for that.]
…and so I wanted to share my experience, and suggestions.
Here's a few points I discovered.
If you use the link that Corey gave (http://www.gaiamtv.com/?cid=aff:amb:cg:al000) you still get the offer of the first month for $0.99.
After that it becomes $9.99 per month. You can save 20% if you pay for a full year.
Credit card or PayPal may be used for payment.
I found the "Standard" player was too choppy, so if this happens to you, go to account settings and change to the "Legacy" player (now the viewing on my computer is smooth and chop-free).
If one views these particular episodes "in the Raw" (without clothes), you very likely will receive a personal visit from Raw Tear Eir (the Blue Avian Corey has worked with) asking you to put your clothes back on. This depends on your body type, and what type of feathers you have.
___________________
Facebook Update (July 23rd 8:30am):
Sphere Being Alliance
 Are you feeling the establishments "Soft Disclosure" occurring a little bit every day? If not you aren't looking hard enough. There is tons of life in our Solar System alone. What they are finding on Pluto and telling us about and the planets they are finding are all to prepare the sleeping masses for bigger announcements in the future. This of course is all data that they already know to be true through the SSP's.
Earth-Like Planets 'Three Times More Likely' In Milky Way Than Previously Thought
[We have been covering soft disclosure for sometime on the blog, and it goes far beyond the topics of space and exoplanets. Given that nearly every aspect of our lives is heavily controlled and influenced, nearly anything that is now hidden can be considered disclosure, and assuredly plays a part in opening our minds to the truth.
___________________
Facebook Update (July 23rd 8:30am):
This was just too beautifully created to not post. This is a screen capture from the first hour of 
Cosmic Disclosure
, and was created by digital artist 
Android Jones
, in collaboration with 
Corey
.
All I can say is (besides "Thank you 
Corey
, 
David
, and 
Android
 for this image!") "This is not like any "bird being" 
I've
 ever seen!!
——————————————————————-
Additional Commentary from Corey:
Sphere Being Alliance This is a very rough image that was later cleaned up by Android/Andrew. This is a raw image compared to what he has done with it since.
____________________
Facebook Update (July 23rd 9:30am):
---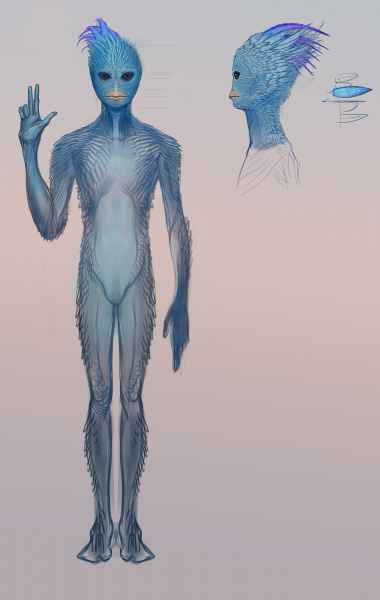 Since people are taking screen shots of the raw image from the
Gaiam TV
​ "
Cosmic Disclosure
" video I am posting the most up to date image.It can be zoomed in on to view areas of the Blue Avian closer [
here
is a more 'zoom friendly' version of the image]. More work is needed and this is not the final version. The "Eyes" are not quite perfect, they are too reddish brown and do not have the correct look to them yet. That will all be corrected once the artist is back in the country. A final image will be presented at a future date.I am finishing up the video shoot this week at Gaiam and already have my first meeting scheduled with the SSP Alliance Council since the huge falling out we had. I was contacted by Gonzales and given the meeting time. I will also be meeting with Raw-Teir-Eir.
I still need to write an update/article about those meetings and incidents and will also give an update about what occurs in this new round of meetings once I am back home and have had time to unwind a bit.
Stay tuned for more updates. In the mean time I hope you have enjoyed the video's on Gaiam TV. I was extremely nervous the first couple of episodes but I do acclimate to speaking about these topics in the new environment with a crew and multiple camera's after a short time.
Thank you for all of the moral support,
Corey/GoodETxSG
[Anyone notice Raw Tear Eir's hand position? The right hand points up and the left hand points down, just like the Magician card in the Tarot deck:
My comment on Corey's website about this post:
Amazing. when i was watching the GaiamTV episode with this image, i felt a pang of rememberance, like i recognized the image from somewhere. Idk if thats just the impulse of my subjective desire to identify with the inspiring aspects of this narrative or if it reflects some level of 'soul memory' in relation to these beings. Im curious to know what other peoples reactions were.
A response to my comment:
I had the same pangs but more so when he talked about being trained as an I.E. And the LOC. but trust it man. pangs as you call them do not lie. And nothing happens for no reason. So with that said I would say that you should pursue the thought even more if you so choose. That's what the goal is afterall. The pursuit of knowledge of self via the expansion of conciousness. As long as that's your goal I can assure you that you won't find any irrelevant information from any pangs you ever get
And my follow up response:
Indeed. I used to dismiss my thought stream as 'mind chatter' but the more aware I become and better able to reconcile the information I am receiving via all sources, the more I realize there is way more correlation going on. Lately, I've been having quasi precognitive experiences so often its become common place, especially when in the 'trance like' state which normal comes from watching/listening to videos.
Question about Density vs Dimension terminology:
Corey you mentioned they are from 6-9 density and we are in 3-4 density aren't you referring to dimensions rather than Density There are 3 dimensions in each Density…
Corey's Response:
Sphere Being Alliance We will be going into the differences between Dimensions and Densities. They are NOT interchangeable terms as many think. They are not two terms that mean the same thing. This is something that has needed to be defined for some time as many make the mistake of using these terms incorrectly.
TY, Corey/GoodETxSG
[These terms are interchanged in various places on the internet but within physics there is a definitive difference.
Dimension is defined as:
a measurable extent of some kind, such as length, breadth, depth, or height.
Whereas Density is defined as:
the degree of compactness of a substance.
and;
a degree of consistency measured by the quantity of mass per unit volume.
The Law of One Material similarly defines density as the concentration of organization within a volume, but instead of mass per unit volume its consciousness per unit volume.
Dewey B. Larson who deduced the Reciprocal Systems Theory, definitively explaining the principles which organize the physical universe defines density as energetic expression organized in degree's of compactness within a given space.
Without getting too complicated there are some basic examples we can think about that provide an understanding.
Dimensions we experience in life as up and down, left and right, forward and back – these are spacial dimensions, of which there are 3. These same spacial dimensions operate in all the seven densities described by the Law of One. The forward progression of time, within the space-time region of the universe is often labeled a 'dimension' but is more accurately described as a condition of frequency, that motion progresses as events in time. Since this progression happens at all points in space, it is a scalar or non directional quantity; not a dimension in a conventional sense. Conversely, speed has direction – you can move forward from one place to another along a directional line defined as a 3 dimensional vector quantity; inclination and declination.
Material Density, in everyday life can be found in concentrations of substances. For example, a beer has less alcohol then a shot of whiskey, per unit volume and therefore has more alcoholic density. Consciousness is what defines the so called densities of existence described in the Law of One and as it relates to where races like the Sphere Beings hail from. Here we would need to redefine life as a system of self organized motion, the body vehicle.
Using that definition, all things in the universe are alive, and fall into degree's of consciousness density, increasing in complexity using additive principles. For example, the first density is composed of atomic and molecular orders of life. The second density is composed of unicellular and multicellular life, which uses first density life to make up the body vehicle. Therefore in second density there are 2 layers or fields of consciousness operating in the same system of motion: 1st density molecules, which are organized in their own right, and 2nd density cells further organizing the whole system. Finally in third density life, there is yet another layer of consciousness organizing the body vehicle; human consciousness. Again, 1st density molecules make up the bodies of the second density cells and tissue, which makes up the 3rd density body of a human being; 3 discrete fields of consciousness animating the system of motion known as the body.
Going one step further into 4th density, the Social Memory Complex of Earth, what we can probably think of as the spiritual and mindal presence of Gaia, infuses the 'cells' of her body, 4th density humans. The Law of One describes 4th density planets as containing all the preceding densities of life, yet organized differently. Using this additive model, it stands to reason that as density levels increase, more of the macrocosm directly influences the microcosm. Possibly 5th density life incorporates a star's consciousness into the planet, and in turn the life on it. At every density there are more consciousness fields influencing the body vehicles or systems of motion enveloped by them.]
___________________
[Another GaiamTV Q and A]
I've been trying and trying to post this full text to FB, but could not figure out how to do it so you could read the text of David's note. So anyway, here it is.
——————————————————-
Cosmic Disclosure has now shattered all existing records in the history of GaiamTV by a very significant degree. It is too early to tell how many of these viewers have become subscribers, but that's really up to you!
This is a big relief for us, since we've risked our lives and been through all sorts of outrageous negative experiences in order to reach this point. The Cabal genuinely did not think we would ever get it together.
Now the Divine Cosmos site has been taken offline, but Gaiam's site is still running. Our site has almost never before had such a massive hack attack, and the timing is obviously no accident.
The weekend is always when things "go viral" and this is a very transparent move. Who else would have the means and the resources to do this — and why now?
In order to not break the momentum, I will again post the link to Gaiam TV. This one ensures that Corey and I both get credit if you decide to subscribe:
http://click.linksynergy.com/fs-bin/click…
This was a surprisingly desperate move, along the lines of the Bush Administration cronies recently posting pictures of themselves on 9/11, as if to say "Look at how intense this was. Hit us out of nowhere!"
Sorry, guys, you will have to suffer the consequences of your actions. Humanity will be set free. We are not your slaves.