Isis: That's really bad news for the cabal. If they were still in power, Greece would have been bombarded already and declared a "terrorist" state …
For more "behind the scenes" and what really is going on, see Ben Fulford's update for this week here.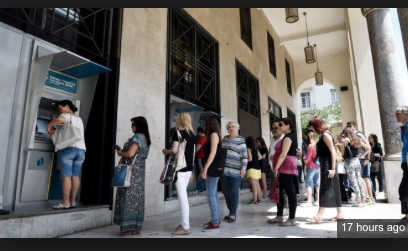 By, Ashley Jones The Pete Santilli Show 
Well, it looks like the day of reckoning is finally upon us. After months of the European Union and IMF attempting to negotiate a deal between Greece and their creditors, Prime minister Tsipras has put the final nail in the coffin for any deal by refusing to give up the people of Greece's pensions.
Please stay tuned to The Pete Santilli Show for late breaking updates and real time analysis by liking our Facebook page http://facebook.com/guerillamedia, following us on Twitter: @PTSantilli and bookmarking our website.
The time has come, and we believe that Greece will be the catalyst which will set off the global economic collapse.  People are wondering how this will effect them.  Does Greece matter?  If the EuroZone collapses, how long will it take to impact the USA?  Please stay connected to The Pete Santilli Show, as Pete has been studying the global economic meltdown for many years now —- nobody offers a "Steak & Potatoes" perspective on the coming collapse the way Pete Santilli does.
GREEK PRIME MINISTER SAYS GREEK PEOPLE SHOULD REMAIN CALM
GREEK PM: BANK OF GREECE PROPOSED BANK TRANSACTION RESTRICTIONS
GREEK PRIME SAID GREECE RE-APPLIED FOR BAILOUT EXTENSION
GREEK PRIME MINISTER SAYS DEPOSITS ARE 'COMPLETELY SAFE'
Links:
http://www.reuters.com/article/2015/06/28/us-eurozone-greece-idUSKBN0P40EO20150628?
http://www.zerohedge.com/news/2015-06-28/greek-capital-controls-begin-banks-remain-closed-monday